Private company shares should
be in a securities-accounts
Bring sustainable order to your share register
Only those who have an overview of their shareholders will lead their company to success. Therefore, switch to the most innovative share register now.
How does the Aequitec share register work?
With Aequitec´s unique share register, you can keep track of your shareholders and ensure chain-of-title at all times. The Aequitec platform processes every type of share - regardless of whether they are simple uncertificated securities, securities, tokenized shares or book-entry securities.
The platform not only offers the possibility to manage the share ledger, but also to carry out capital increase and share transfers directly at the push of a button. The simple processes ensure legal certainty and transparency.
The benefits of Aequitec

1. Always up-to date and comprehensive

Through the electronic recording of all corporate actions such as capital increases or employee shareholdings, with Aequitec your share register is always up to date. A convenient export of your sharebook and chain of title, can thus be carried out at any time.

The benefits of Aequitec

2. Digital share transfer

Through the digital management of your shareholders and shares, share transfers can also be handled completely digitally. This not only creates transparency for all parties involved, but also gives you the security of not making any mistakes. The type of share does not matter. Aequitec can manage them all.

The benefits of Aequitec

3. Connection to the banking system

The SWIFT connection, which is unique for digital share registers, ensures that your shareholders can book their share values directly into their securities accounts. And it doesn´t matter at which bank or where in the world they are located! Tax values can also be determined directly.
"One FTE is usually working one day per month on the share register."
Maintaining a normal share register is often not only a legal balancing act, it is also time-consuming. The larger the shareholder base and the older the company, the more working time is required.
Digitize your share register today
Create an Aequitec account now and start digitizing your share register today. Do you have any questions? Then our experts are always at your side.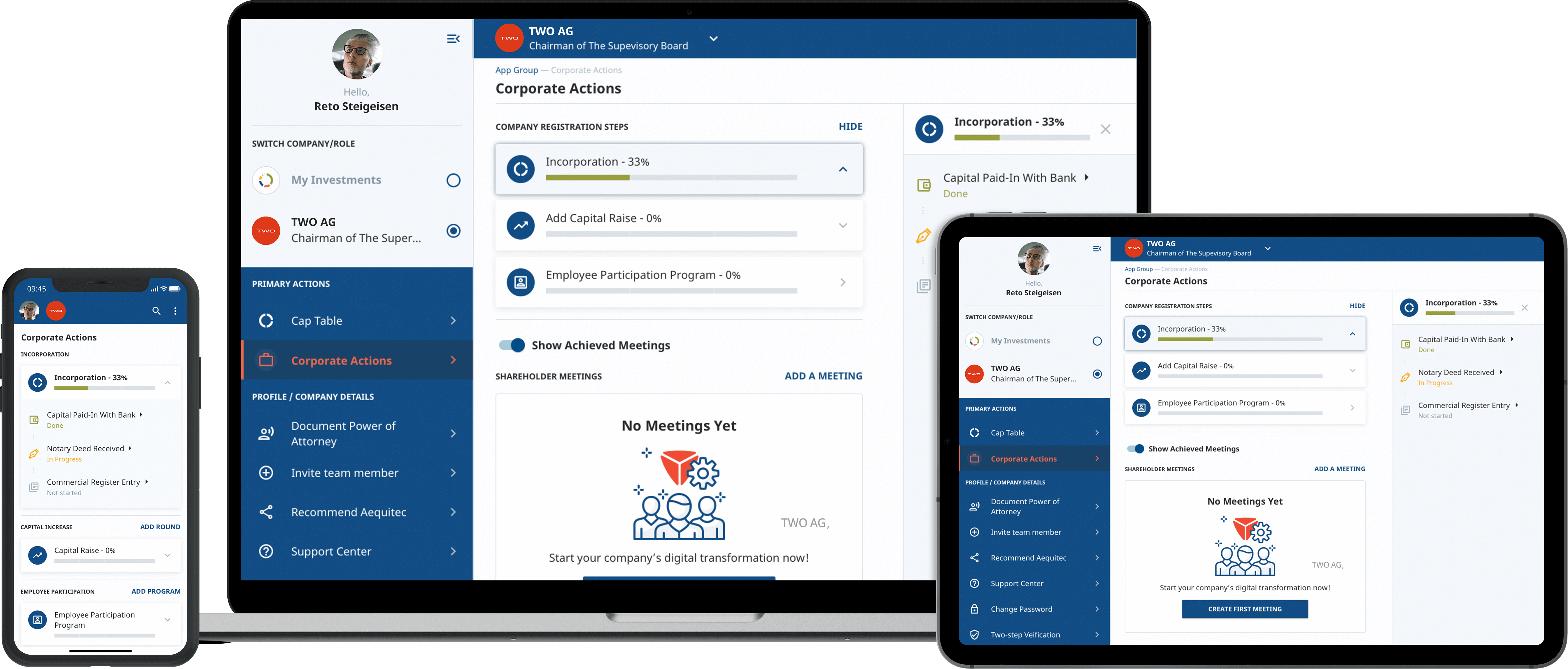 6 reasons that speak for the Aequitec share register
Data storage At the location of your choice - for maximum security.

Data protection has the highest priority at Aequitec. That is why we store all our customers' data on our own servers. This can be either directly in Switzerland or anywhere else in the world - in accordance with your internal data security requirements. We also protect your data with state-of-the-art technology. This includes software as well as hardware solutions.

Legal security through workflows developed by experts

Share registers on confusing paper or in complex Excel lists have no managed processes compared to Aequitec´s digital share register. This ensures an increased risk of errors. The professional workflows in the Aequitec platform guarantee compliance with all regulations and obligations. This ensures flawless corporate governance.

Audit-proof documents for direct download and printing

The simple interface and integrated export functions make the daily maintenance of your share register easy and practical. Many documents that you need for management can be downloaded simply with a click. Aequitec ensures that they are always audit-proof in the process. This ensures security

Automation of processes for more time for the essentials

Aequitec coordinates and regulates the complex processes of share register management for you in the background. The simple processes help you in your daily work and save valuable time. Many of the processes are automated. This means: Aequitec does the work and you can concentrate on more important things: The success of your company.

Transmission of the tax values to your shareholders

Through the Swift connection of the Aequitec platform, the share values of your shareholders are booked directly into your securities accounts. This has various advantages: For example, tax values can be sent directly to the tax office. Your shareholders also avoid the case that they forget or inaccurately declare shares in their tax return.

Enable holistic wealth management

The entry of the share values in the bank deposits creates a more holistic view of the individual financial situation for your shareholders and your investment advisors. This makes the real assets visible. This can be of great advantage when requesting financing from banks. In addition, it opens doors to previously unavailable investment options.
Our experts knowledge
free for you to download
Helpful Downloads'
We know the challenges you face when digitizing the share register. That´s why we have compiled useful tools for you to download.
What do I need to consider when digitizing the digital share register?