Make use of a contemporary solution
Your shareholders' meeting is taking longer and longer?
With Aequitec, all shareholder votes can be recorded, anywhere, anytime
How does the Aequitec shareholders' meeting work?
With the unique process for preparing, conducting and summarizing your general meeting, you invite first and in due form, record all shareholder votes and log the results cleanly and legally compliant for submission to the commercial register.
Aequitec offers not only the electronic processing, but the entire shareholders' meeting process from A to Z. This allows you to focus on further business development and rely on us as a trusted partner.
The benefits of Aequitec

1. A clean and well thought-out process

Together with leading lawyers and notaries, we have crystallized the best of each process. In doing so, the Aequitec process logic also covers special cases and process incidents that are not commonplace.

The benefits of Aequitec

2. Exact recording of voting rights

Shareholders can use a modern application to exercise their voting rights before or during the Shareholders' Meeting, either locally or on the move on their cell phones or at home on their Internet browsers.

The benefits of Aequitec

3. Prompt handling of pending matters

Immediately after the end of the Shareholders' Meeting, the minutes are prepared. Thanks to standardized templates and digital signatures, nothing stands in the way of an immediate application to the commercial register.
"The votes are transmitted immediately."
Especially for general meeting resolutions requiring notarization, it is important that the votes are recorded immediately and communicated to the meeting in aggregated form immediately after the agenda item is closed.
Conduct a contemporary shareholders' meeting
Create an Aequitec account now and start planning your upcoming General Assembly today.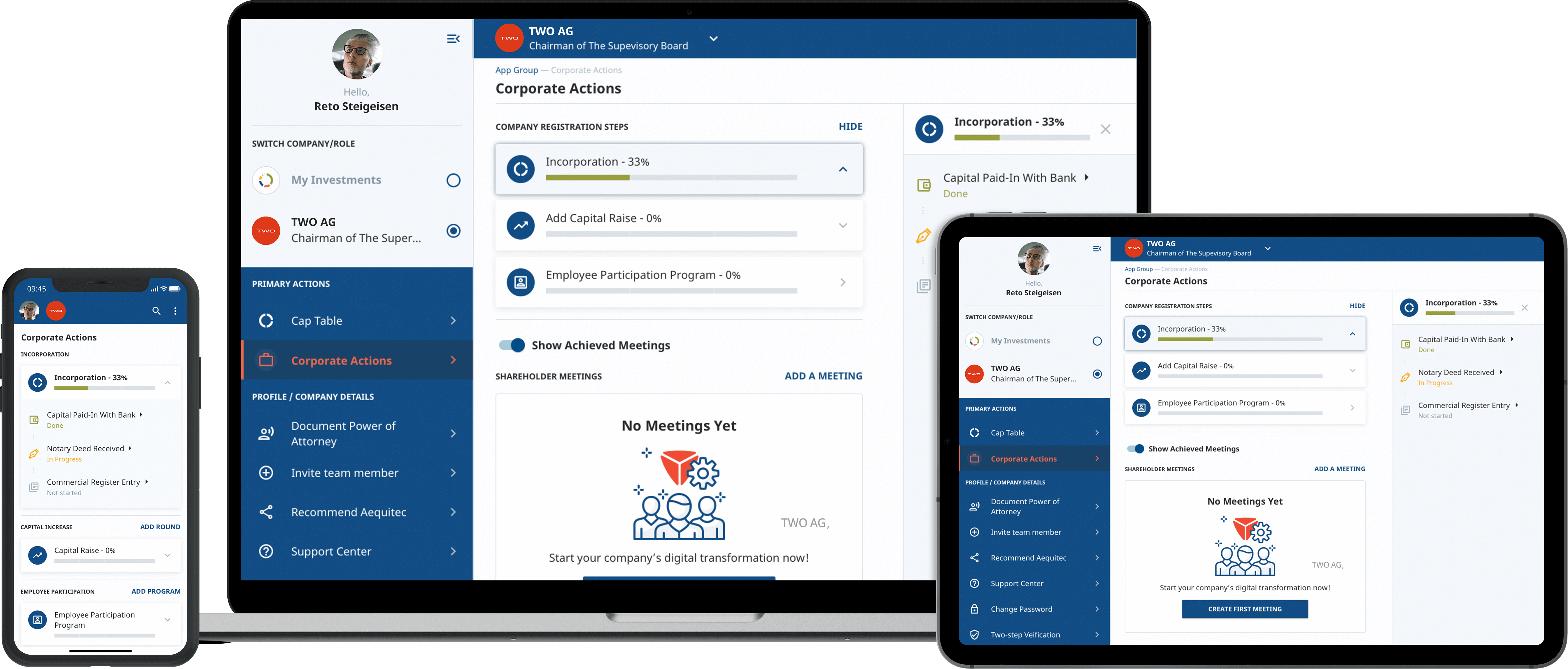 6 reasons to have a shareholders' meeting with Aequitec
Full flexibility - Physical, hybrid or virtual

Swiss law offers full flexibility. And so does Aequitec. We conduct all forms of meetings, with or without a notary, in Switzerland or abroad. You decide what is best for your shareholders.

Everything from a single source - Direct connection to the share register

Aequitec offers the direct link between the share register and the shareholders' meeting. Last minute proxies? No problem. You will notice, the emotional calm during the shareholders' meeting is simply good for you.

On the cutting edge - voting made easy

It is simply the Zeitgeist that the shareholder can decide until shortly before the meeting whether a virtual or physical presence is possible.

Thoughtful from A to Z - a modern guide

Aequitec processes have been optimized to capture information according to time sequence. No unstructured filling in of documents and templates. The process guides itself along the sequential timing of the process steps.

Short and sweet - universal meetings also benefit

Even if all shareholders participate or corresponding proxies are available, our customers benefit from accelerated handling of their processes.

Fast and digital - publication of results

With the help of qualified electronic signatures, your amendments to the articles of association are directly with the commercial register. And you can tick off the pending items.
Our expert knowledge
free for you to download
Helpful Downloads'
We know the challenges you face when implementing your shareholders' meeting. That's why we've compiled useful information for you to download.
What do I need to keep in mind when handling our Shareholders' Meeting?