Private company shares should
be in a securities-accounts
Corporate Actions Automated
With Aequitec's regulated share register, you know your shareholders' rights, anytime and anywhere.
Our Product
What is Aequitec?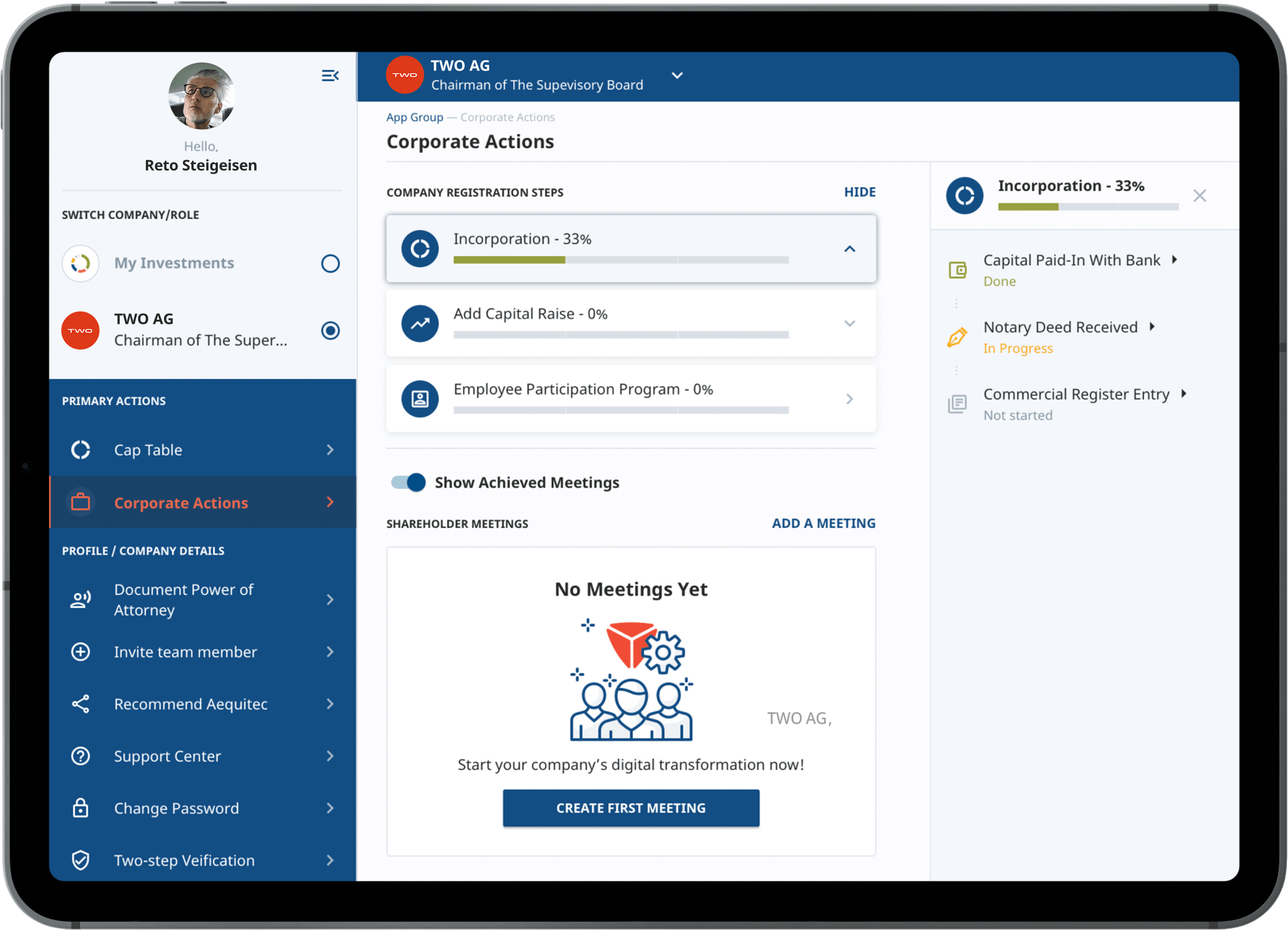 Aequitec is a digital platform that enables you to massively simplify corporate actions with digital workflows. For this purpose, we have developed modular tools that enable private and public companies to keep track of their shareholders and corporate actions at all times.
Being the Swiss knife of corporate governance we provide reliable tools for share registry, AGMs, share transfers as well as capital increase and simulations. All independent of which type of shares that is issued, simple uncertificated securities, securities, tokenized shares or book-entry securities. All available as bankable shares in the shareholders secureties-account, if wanted.
Why work with Aequitec?
With Aequitec´s unique share register, you do not only have full and real-time control (incl. chain-of-title) of all your equities, but are also connected to the global financial infrastructure through CSDs, Banks, Swift and / or DLT. This creates a secure, reliable and regulated technology-platform. This ensures a single source of truth and chain-of-title at all times.
The main benefit of working with Aequitec is that, as a client, you have reliable, trustworth and knowledgeable partner from incorporation to post-IPO, we will support you in every stage of you company. To start working with us, simply contact us and we will ensure a compliant and safe setup of your company.
Corporate Actions

Share Register

Aequitec has the most advanced share-registry on the market that works for both private and public companies. The Aequitec platform processes every type of share - regardless of whether they are simple uncertificated securities, securities, tokenized shares or book-entry securities. Real-time access to share-book and chain-of-title in an easy-to-use interface for employees, investors, board of directors, notaries etc. All actions done in are reflected in the securities-accounts of the investor. The simple processes ensure legal certainty and transparency. If downladed Excel-files are needed, it is just a click away.

Corporate Actions

General Meeting

Aequitec´s annual general meeting (AGM) services cover the entire AGM lifecycle. This includes the planning, agenda, invitations, conduct, direct voting and protocol. The standardized and compliant workflow makes your life easier, saves time, external resources and enables you to focus on the content and shareholder relationships. The assemblies can be physical, hybrid or virtual. Voting can be onsite, digitally (smartphone and web) or via proxy. For shareholders, it has never been easier to participate and i.e vote via our app. For companies it has never been easier to plan, conduct, close and document General Meetings.

Corporate Actions

Share Transfer

Through the digital management of your shareholders and shares, share transfers can also be handled completely digitally, including the creation and qualified electronic signing of the Share Purchase Agreement. This not only creates trust and transparency for all parties involved, but also gives you the security of not making any mistakes and with full transaction history. Aequitec also supports bankable shares in a securities portfolio with the necessary bank transfers.

Corporate Actions

Capital Increase

Capital Increase is tough and time consuming. Aequitec helps you focus on finding the right investors, not manage calculations and paperwork. Aequitec removes the hassle and manages this in compliant workflows. As an Aequitec customer, you can rely on a correct share register and chain of title. Those are essential prerequisites for the capital increase and the associated due diligence process. Aequitec simplifies processes around capital increases, including the creation and digital signing of subscription certificates.
Watch what Aequitec can do for you?
Assets Under Administration
The success of our customers
Who is Aequitec made for?
Centralized data in the cloud provides an overview for all workflow stakeholders and ready-made workflows simplify business processes.
With Aequitec´s mobile-first approach and the appropriate web applications, external partners such as lawyers, notaries or auditing companies can also easily gain access to your company. Investors can also gain insight in an uncomplicated way, including having their shares in their securities-accounts.
Available world wide and in real-time.
So simple it can also be done on the move if necessary.
Quick overview of everything important.
Our unique technology

Our technology-architecture is truly unique based on our approach to work in every financial environment. We sincerely believe that to be able to innovate with growth and trust in todays climate, we need to work in the environment of choice for our clients. Therefore have we made the decision to be regulated and securit compliant with all necerrasy instanses to be able to provide truly unique capabilities to our clients as well as being an integral part of the financial eco-system.
These partners and investors already support us Digitize your share register today
Create an Aequitec account now and start digitizing your share register today. Do you have any questions? Then our experts are always at your side.